About Capt. Sean Rush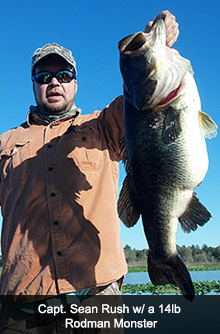 Hello Friends! My name is Sean Rush and I am the owner/operator of Trophy Bass Expeditions of Central Florida here in Ocala, Florida. As stated on the home page I am a USCG licensed Florida Trophy Bass Guide here in North Central Florida. My story is about being in the right place at the right time. My grandfather was well respected local bass guide Gene Moore and from the time I could basically hold a fishing pole I learned this trade from him and some of the most nationally prestigious Trophy Bass Fishing Guides ever to have lived. I was mentored by men whose fishing knowledge and trophy bass totals will never be approached again. This area including Rodman Reservoir, St.Johns River, Orange and Lochloosa Lakes to name a few was, in the 70's and 80's when I was growing up fishing, quite simply the mecca of big bass fishing. Published Game and Fish Commission studies in those days found that the county I live in was producing more numbers of 10 plus pound bass than many popular bass fishing state's entire annual hauls!
Through countless hours on the water I developed a reputation at a relatively young age as a trophy bass angler. At 17 years old I started running guide trips out of Robert Wilson's Ft.McCoy Gun and Tackle and had great success. Now in my late 40's I am blessed to spend 300 to 340 days per year guiding clients who are chasing these giant bass! I was completely humbled and honored when I was selected in an article by Senior B.A.S.S. publications editor Ken Duke in the June 2012 issue of B.A.S.S. Times as the 2012 "Lunker Hunter" for Florida!! I am also proud to be a Wounded Warriors in Action Pro Staff Member. This is a fantastic organization which supports and rewards the truly heroic men and women of our armed forces. I am also War Eagle Boats and GatorTail Boat and Outboards Pro Staff Member. I am also proud to be sponsored by Under Armour. I have also been granted Elite status from Shimano American Corporation! My extensive trophy bass fishing knowledge spans from Stick Marsh/Farm 13 in southern Florida to the Suwannee and St.Johns Rivers on their respective northern Florida coasts. While having a great affinity for capturing bass on artificial lures, my expertise is fishing natural baits for giant Florida largemouths! I believe the methods we've developed here with the natural baits give the average angler the best shot at landing a trophy bass on any given fishing trip. While this style of fishing can be some of the most technical bass fishing you will experience, it also makes for a fun filled, relaxing day of fishing. I feel I've honed these techniques to make your experience both educational and a trip you'll never forget. In 2013 my customer won Biggest Bass boated in the state in Florida Fish and Game Commission's 2013 TrophyCatch Florida Big Fish Contest!! Long time client Bob Williams of Alloway New Jersey landed a MONSTER 14 pound 1 ounce bass (it was certified by the Florida Game Commission at 13 pounds 14.08 ounces after we kept her in the tank for over half a day) on February 18th, 2013! Two more customers have caught "Hall of Fame" bass exceeding 13 pounds, with Ritchie Whitmore's 14 plus pound bass boated in January 2015 and Adam Evan's 13 pound 2 ounce bass caught in June 2017!
My love for guiding comes from being able to share my trade with people of all experience and age levels. I heard a saying that goes something along the lines of "find something you love to do and it will be like you never worked a day in your life", and in reflection I realize that I am truly fortunate to be able to do something I love. I meet some of the most amazing people in this profession and clients seem to become second family. So pick up the phone or shoot me an e-mail and put my 29 plus years as a Rodman Reservoir Bass Fishing Guide chasing these giant Florida trophy bass to work for you! Thanks! -Capt. Sean Rush
Please visit our "Important Tips To Consider When Selecting A Guide" page for some helpful hints on guide selection.
Please visit our "Media" page for recent articles and media on Sean Rush and Trophy Bass Expeditions!