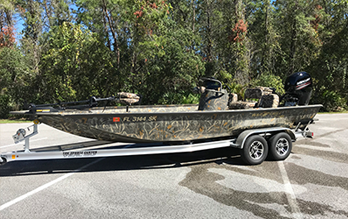 Welcome
Welcome and thanks for visiting Trophy Bass Expeditions of Central Florida! We are located in Ocala, Florida around the originally proclaimed "Bass Capital of the World" section of Marion and Putnam Counties in North Central Florida. We specialize in Florida Trophy Bass Guide trips on world famous Rodman Reservoir, Oklawaha River, Orange and Lochloosa Lakes, and numerous Ocala National Forest and Central Florida Waters.
My name is Sean Rush and I am a USCG licensed and insured Florida Trophy Bass Fishing Guide with over 20 years guiding and 30 years angling experience on these remarkable waters. My specific area of specialty comes as a Rodman Reservoir Trophy Bass Fishing Guide. While there are many wonderful fishing destinations in Florida, it is my belief that this area and Rodman Reservoir in particular, offer an angler of any skill level the best chance of landing a trophy 10+ pound bass of any waterway in the U.S. and arguably any trophy bass destination in the world! The large number of giant Florida largemouth bass landed here annually seems unmatched. From the 17.2 lb. bass caught by a Virginia angler in 2000 which nearly clipped the official state record, to the two 16+ pound bass landed in 2009 by local guides, your next cast could literally be that fish of a lifetime! BOOK WITH ME AND YOU WILL FISH WITH ME! We are NOT a guide referral service. Please visit our "Important Tips to Consider When Selecting a Guide" page for some helpful hints on guide selection.
Located roughly 60 minutes north of Orlando and 45 minutes west of Daytona Beach in the heart of Florida's horse country, the area offers a unique Old-Florida charm and beauty. This locale provides a relaxing and unwinding day accompanied by American Bald Eagles, Ospreys, Alligators, and too many aquatic waterfowl and fish species to list here, far removed from the noise and traffic of a bustling city. So whether in Orlando on business or vacation, in Daytona for one of the many nationally prestigious events, or just trying to decide on where to fish to catch that trophy bass of a lifetime, why not make the short trip for a truly memorable fishing experience on some of the states most pristine, spring-fed waters.
We can accommodate any size fishing parties from large multi-boat corporate trips to single anglers. Families and children are always welcome! We can assist you to arrange some of the most amazing lodging, from modern urban motels in Ocala or Palatka, to rustic lodging with breath-taking bluff views overlooking the reservoir, we can meet your needs no matter what your preference. You can also rest assured with our "No Fish-No Pay" policy that we are confident in our ability to place you on the right body of water at the right time to insure you have a memorable trip! So call or e-mail and Book-A-Trip today and lets go make some memories!